We lost our beautiful English Springer Spaniel, Charlotte "Charley," yesterday.  I know I am lucky to have had her in my life for the past 14 years, but right now it is difficult to get past how much I miss her.  Still, I don't want to dwell on the end of her life, but rather remember what a sweet, loving, and smart companion she was.
Fair warning, this is going to be a long and somewhat rambling post as I write down some of my favorite memories of our Charley.
Charley was a good-natured dog, but she wasn't a well-behaved dog.  She jumped for her food, counter-surfed, stole food off people's plates, rooted through trash cans (spot a theme?), pulled on her leash, etc.
One time, she managed to steal a half-wheel of cornbread off the kitchen island and scarf it down before I even noticed.
Of course, that's all on me.  I suck at training dogs and she was especially challenging because she was so smart.  Sometimes, she'd pretend to behave, only to turn around and do whatever she wanted when we weren't looking.
My daughter Isabelle's room was the only room in the house she was barred from consistently because Isabelle would often leave tasty, and accessible, scraps in her garbage can.  Even after she had become mostly deaf, Charley would somehow know when Isabelle would leave her door open and would very casually saunter over and start digging through the garbage.  We usually only knew she was in there when we would hear an outraged "Charley!" from Isabelle upon returning to her room.
Charley came into our lives after our 11-year-old rescue, Mimi, died of cancer.  I felt I had a limited window of opportunity to get a new dog because once my now ex-wife got used to not having a dog around, she might not want to get one again.  I was searching for dogs when she suggested a Springer Spaniel.  I'd had a Springer, Chaucer, during my teenage years, and spoken of him often, but hadn't considered getting one due to their heavy shedding.  I immediately found an AKC breeder in Tombstone, Arizona, of all places, with a gorgeous black-white-tri-color female puppy available.  I couldn't have designed a more adorable Springer.  Within hours I had put down my deposit and reserved her.  I only learned much later how lucky I was.  Most breeders, including this one, pre-sell their puppies and it can take many months to get one.  From some reason, the people who had reserved Charley had backed out and I just happened to hit the website at the perfect time.
A few weeks later I flew to Tucson and drove an hour to Tombstone to get her.  I was greeted by about eight friendly, beautiful, adult Springers and little nine-week-old Charley fearlessly running around with them.  I stuffed her into a pet carrier and headed back to Tucson.  She hated the carrier so I let her out and she promptly fell asleep on the passenger seat.  When we got home, after spending a few minutes checking out her new digs, she curled up on my son's backpack and fell asleep again, foreshadowing a special relationship to come.  We couldn't have asked for a more loving, affectionate dog. 

When she was a puppy, she slept in a crate and she would occasionally just go in there by herself (that didn't last long).  One day, she came out of the crate trailing twenty-dollar bills.  Apparently, she had found a pack of them on a table we didn't think she could reach.  We joked that we apparently had a dog made of money.
During my divorce, she was my great source of comfort.  I took her for long walks every morning, often before the sun rose.  When I moved out, she came with me.  With only 50% custody of my kids, and then my daughter and later my son going off to college, and Teri moving in just a few years ago, we were each other's only true constants for 14 years.  It's hard to contemplate the next 30 or 40 years without her right now.
About a year after she joined our family, we took a two-week volunteer trip to Costa Rica (one of the most meaningful experiences of my life), and we left Charley with my wife's friend and colleague, Bev.  Up until then, Charley had slept in a dog bed in our bedroom, but Bev allowed her dogs to sleep in her bed and Charley quickly joined them.  Our first night back, she hopped up on our bed and that was that.  After the divorce, she slept in my bed tightly pressed against me.  If I shifted, she shifted with me.  I'd often wake up in the middle of the night in about 12 inches of space at the edge in my king bed, having unconsciously moved away from her looking for some breathing room but with her chasing me across the bed until there was nowhere to go.  I'd then shove her over and we'd start it all again, sometimes repeated several times a night.  A few years ago, she started sleeping in her dog bed again.
Although she was an active girl who loved her backyard, she was also a big couch potato and snuggler extraordinaire, with my son, DJ, as her favorite sleeping companion.  She loved her boy and missed him when he left for college.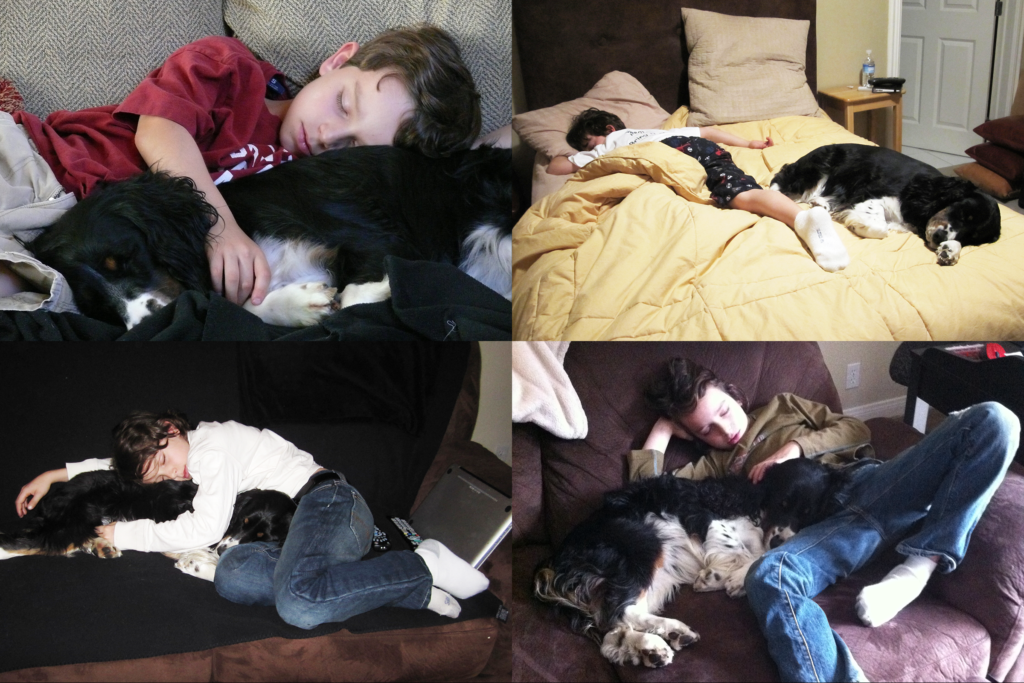 Charley warmly welcomed Teri when she came into our lives.  She always greeted her enthusiastically when she came over and, after she moved in, met her at the door every night and sometimes even waited by the door when she was late.  After DJ left for college, Charley chose Teri as her new couch companion.  Her affection for Teri was very endearing.
Charley could be talkative.  She wasn't a huge barker, but she had a howl that tapered off in a funny way if she wanted to get your attention.  Each summer for several years, we all went to one or two music festivals, and we had dog sitters come by a couple of times a day.  One night I received a frantic text in all caps:  SHE'S HOWLING AT ME!  I had to reassure the sitter that it just meant Charley liked her and wanted her attention (probably hungry).  I still chuckle about it.
A few quick thoughts:

She loved my father, who lives in New Jersey. She was so excited to see him when he came to visit – jumping, twisting, pushing up against him, and furiously wagging her little stub of a tail. It was always such a delight. They had a game they played where she would "sneak" into the guest bedroom, snatch a sock and dive under the bed so he would have to get down and retrieve it from her. Eventually, she grew too big to fit under the bed, so her head, with the sock, would be under, but her butt would stick up in the air, tail wagging.

She loved to drink water from the pool, but hated swimming.

She loved all the fruit from our backyard trees – mandarins, peaches, but especially avocados – and usually gained a few pounds during avocado season.
She was kind of an oaf. She would barge right in to drink at the water bowl and sometimes would jump onto the couch and actually sit on one of the other dogs.
At night, she always wanted to be the first to the bedroom, no idea why. When she guessed we were going to bed, she would trot down the hallway. If one of us was ahead of her, she would speed up to slip by. If she went too early, she would come back and peek around the corner to see where we were.
While she had been in a slow decline the last few months, she deteriorated rapidly during her last week of life. On Friday, she didn't eat her food for the first time, though she did take a few pieces of sliced turkey. She looked terrible. Drawn, eyes bulging a bit, unsteady on her feet. In the afternoon, she wanted to go outside so I let her out into the backyard, but she went straight to the gate leading out to the front of the house, which was unusual. I followed her out the gate and she wandered down the driveway and started trudging down the street. Again, unusual. I let her do as she pleased and she drifted down the street on wobbly legs, looking around a bit, sniffing here and there, but mostly just walking. Worried about her safety, I turned her around and guided her home. The thought occurred to me that she just wanted to take a last look around the neighborhood where she had walked many times. I'm grateful I listened to her, because a few hours later, as she rested in her favorite spot on her mat underneath our entry table, she had the first of several grand mal seizures. We took her to the ER, but it was time.
She died on this Saturday, a beautiful Southern California Winter day, at home, looking out over her beloved backyard and pool, surrounded by those who loved her and she loved.
Joe and Jill Biden have spoken of "an empty chair at the dinner table" to refer to their son Beau and those we have lost, and continue to lose, during the COVID-19 pandemic. There is an empty bed in our bedroom now. A bittersweet reminder of our loss, but also of the wonderful dog who graced our lives with so much joy for 14 years. We'll miss her forever.