The Reality
Here's where I made my second rookie RV mistake.  I didn't check our revised route (163N to 261N to UT-95) for any sections closed to large vehicles.  Turns out there is just such a section on the 261, so we had to turn around and drive back through Bluff to pick up UT-95.  The detour cost us about 45 minutes, which would have been avoided had we just stayed in Bluff.  No regrets.  Goulding's Campground in Monument Valley will likely turn out to be our favorite RV park of the trip due to the spectacular view from our slip.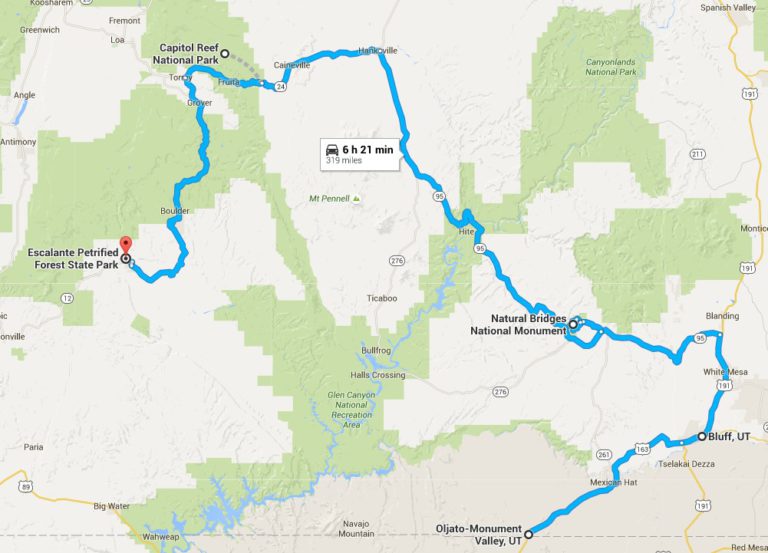 The Good
The entire ride from Monument Valley to Natural Bridges was beautiful though we did run into a snow storm about half way there.  Natural Bridges is gorgeous.  You can watch a brief video at the Visitors Center about how the bridges are formed.  Not sure if it was due to the snow and ice on the ground, but I actually had trouble seeing two of the bridges at first, but after a few seconds of staring, was able to clearly make them out, kind of like looking at those old 3D prints.  Natural Bridges is a gorgeous park and well worth the visit.
We arrived at Capitol Reef late in the day and only got a glimpse.  As we drove up to the Visitor Center, we saw the petroglyphs carved by the Fremont people roughly 1,000 years ago.  A unique and very cool element of the trip!
The main road through the park is not RV friendly (there are shuttle during normal business hours), but what we were able to see of the massive cliffs and canyons was amazing.  It reminded me a bit of Zion (which I visited when I was a teenager).  Up until now, we were either overlooking canyons or seeing mesas and plateaus from a distance.  This is the first time we were up close and personal at the bottom of massive cliffs like these and it was awesome.
The ride from Natural Bridges to Capitol Reef was challenging. While driving through our second snowstorm of the day, I also had to deal with snow and ice on the road from a recent snowstorm or two.  It was one of the longer legs of our trip and I had to drive very slowly.  Fortunately, we saw very few other vehicles on the journey so my slow driving didn't get in anyone else's way.
We wanted to grab dinner at a restaurant before driving on the Escalante, but we found the majority of restaurants in that area were closed for the season.  We did find a place that was serviceable.
The trip from Capitol Reef to Escalante Petrified Forrest was even more hazardous than the trip's previous leg.  Dark, rain, snow, ice, narrow roads, and herds of deer dashing out into the road made for a frightening drive.  When we finally reached Escalante, Google took us off course into a residential area until we corrected and found the campground.  Teri joked that she wondered if when some of the residents see headlights flash by their windows late at night they get a good laugh at the Google-misled tourists.