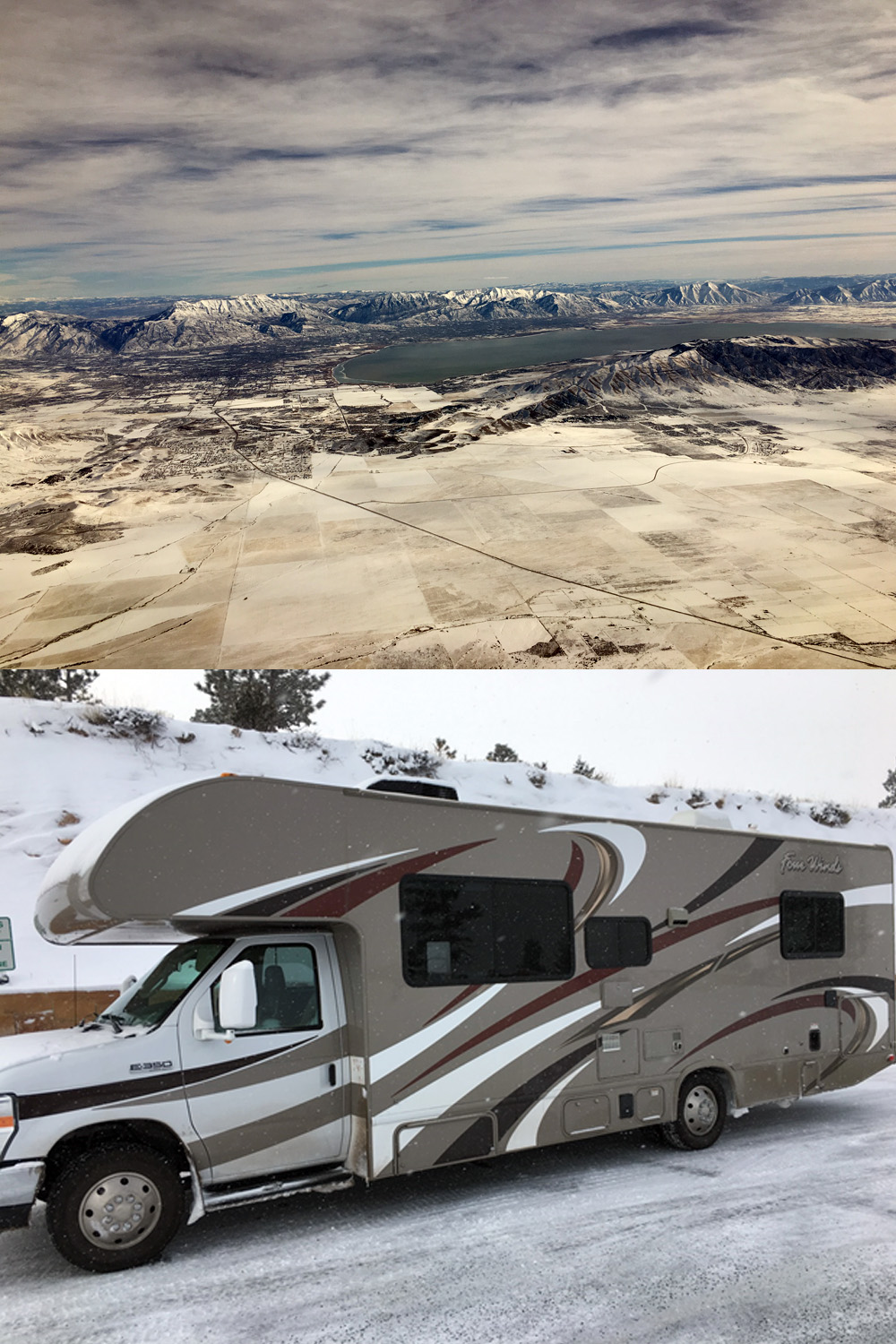 On December 25, 2015 I will turn 50, so I decided to have a brief mid-life crisis and do something a little crazy.  My family and I have always talked about renting an RV for an extended road trip to several national parks.  With a college freshman (Isabelle), high school sophomore (DJ) and a girlfriend (Teri) who works at a school, opportunities for extended trips are actually rare, but there is one time of year when everyone is free – winter break, which is, of course, not the ideal time of year to drive a RV (for the first time, mind you) through the Utah wilderness, but that's just what I decided to do.   We'll be visiting the Mighty 5 national parks in Utah – Arches, Canyonlands, Capitol Reef, Bryce and Zion – via RV.
I did a great deal of research on RV's – rental places, type of RV to rent, RV campsites, etc. and the weather in Utah this time of year.  I rented a 28 foot RV from El Monte RV, a national chain with decent reviews.  Weather was a risk.  There was no doubt it would be cold, but snow was an unknown.  As it turns out, it snowed before we arrived and will continue to snow on and off during the trip.
Each day, I will highlight the original plan, any revised plans, the reality, the good and the bad of the trip.
The Plan
Fly to Salt Lake City from Los Angeles, pick up the RV, and stock up with food and supplies.  Drive from SLC to Dead Horse Point State Park Campground just outside of Moab.  My father and his girlfriend, Susan, were also meeting us in Moab.
The Reality
Our plane was delayed an hour at LAX but we arrived in SLC with all of our luggage and plenty of time to get to the RV place.  After a brief tutorial and instructions on how to maintain the RV, which we promptly dubbed "The Behemoth," we were off.   The snow made the roads, parking lots and side streets slippery and I had to get a feel for the stopping time of the Behemoth, due to both the size and weight of the vehicle and road conditions.  The width of the Behemoth, especially the large side-view mirrors, required some adjustment as I had people screaming at me that I was too close to cars and other obstacles on both the left and the right at times, particularly on city streets.
The Good
Just flying into Utah was beautiful made even more so by the recent snowfalls.  We made it to Whole Foods and Target and stocked up with little incident.  We had prepared well in advance and knew what we needed.  Once we hit the major freeway from SLC to Moab, driving the Behemoth was no problem.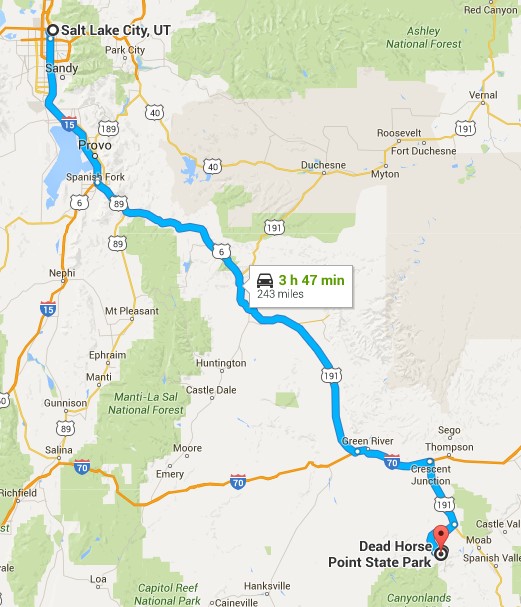 The Bad
An overturned big rig delayed us even further and we arrived at Dead Horse after the park technically closed.  It wasn't a real problem because we were able to drive right in, with a little help from my father who had scouted the site earlier in the day, and set up.  There was a ton of snow on the ground, but I just drove slowly which was not a problem since we were pretty much the only vehicle on the road to Dead Horse.
The biggest problem was that I had made my first rookie mistake.  I was told that the most important hook-up needed was power since the built-in generator could not be run all night and, as you might imagine, we had to run the heater all night.  Turns out the heater runs on propane, not power, which is both efficient and cheap.  Much more important is water, which Dead Horse did not offer.  Fortunately, there were open, if chilly, bathrooms at the site, so we were able to make do.